Free Diagnosis
Is It Really Free?

Customers have been reporting that some Apple support and Mac repair labs in Santa Rosa offer a "free diagnosis," but then charge a fee if you opt not to repair! We believe in genuine, honest communication and are committed to treating others the way we like to be treated, with clearly stated pricing and no hidden fees or requirements for repair. Our Free Diagnosis is an honest-to-goodness, no-strings-attached, free assessment of your Mac.
There is a reason our Apple Certified Mac Tech shop has maintained a perfect A+ Rating with the Better Business Bureau over 20 years of service on over 30,000 Macs. We treat our customers the way we like to be treated, and the way we'd like our loved ones to be treated by other service shops – that is: with friendly, transparent, respectful, expert service and workmanship.
Our team of Mac Certified Techs and Apple Equipment Specialists are the most experienced group of Apple Certified Mac Technicians in Santa Rosa, and all of Sonoma County, with a combined total of over 40 years experience in hands-on Mac repair.
Fast Turnaround: Most repairs completed within 24 hours
Free Parking Steps from the Lobby: We'll carry in your equipment too!
No Appointment Necessary: Just walk right in and talk with an expert
Most Parts for Repairs (even obscure ones) in Stock: With nearly 20 years under our belt, we've stocked parts for nearly every make and model of Mac ever made – so you'll get a better price & faster turnaround!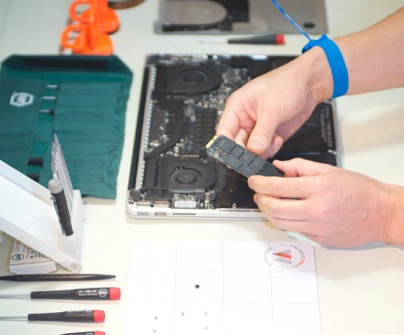 Tam diagnosed a bad logic board & [told me] that Apple offered a free repair, even though AppleCare had expired. Took it to Apple, and the genius said nothing was wrong with my MacBook. I took it home and my MacBook wouldn't start at all. Took it back to Apple, and this time the Apple Genius confirmed that Tam's original diagnosis had indeed been correct, and they agreed to repair my MacBook free of charge. Tam diagnosed what Apple geniuses did not, until the problem progressed to undeniable.
– Gérard Angé, Cinematographer, Healdsburg, CA